Best Optometry Marketing Agencies: Top 10 Choices for 2023
With Canadian digital ad spending projected to hit $16B by 2025, effective marketing is vital. Coupled with a growing optometry market due to an aging population, bespoke strategies are essential to capture your market share successfully. Utilize these shifts to your advantage.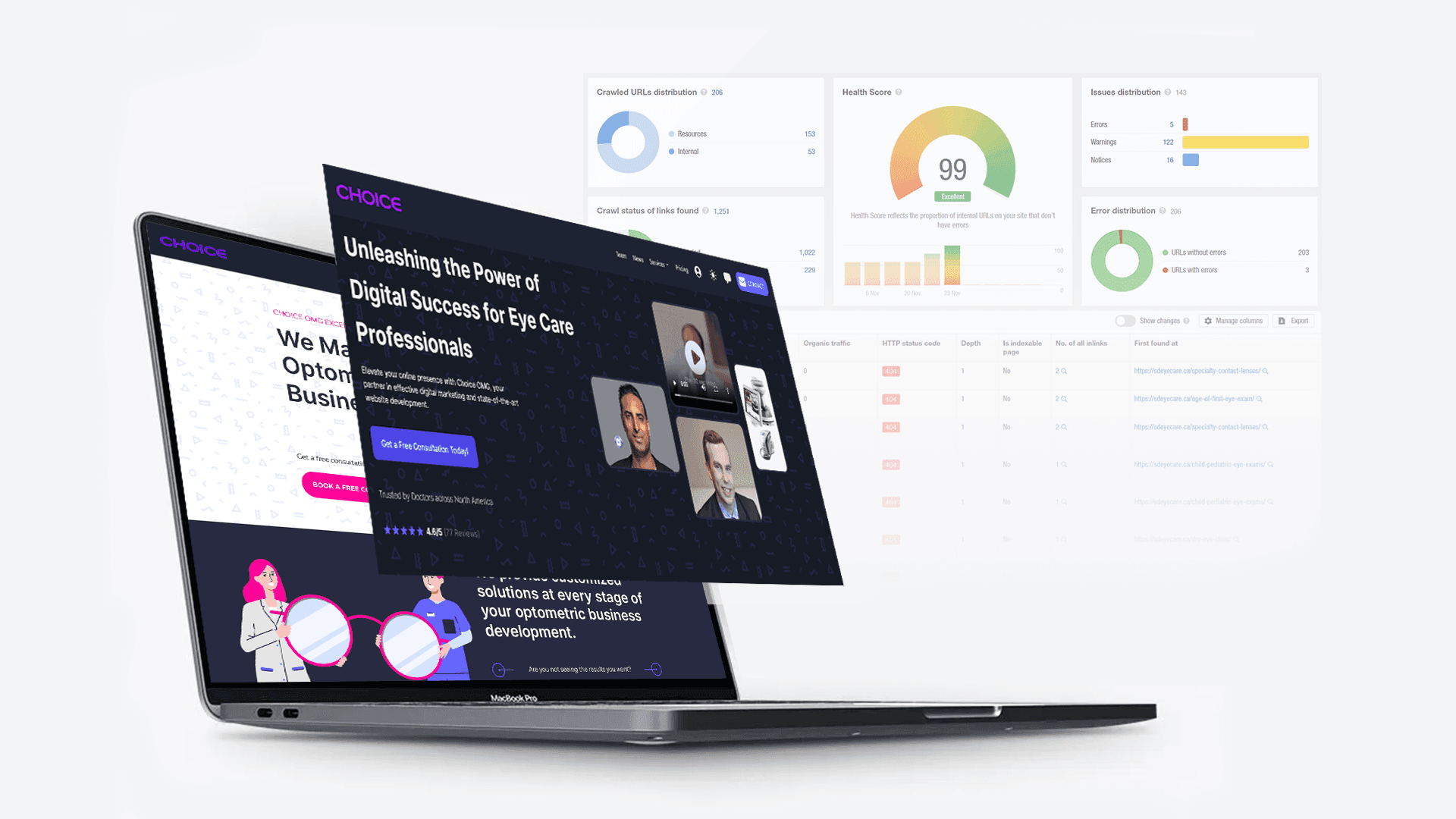 The ability to market your business effectively is increasingly important as Canadian digital ad spending is projected to reach over $16 billion by 2025.
In addition to a congested digital environment, the optometry market is also being impacted by factors like an aging population, which will continue to fuel growth in this industry. If you want to effectively capture market share, you'll need tailored strategies that are designed to capitalize on these shifts.
What is an optometry marketing agency?
Consider working with a specialized agency. Optometric marketing is a developing niche that can help optometrists increase profitability with marketing tactics that are responsive to industry trends. Put yourself in front of the right audience and reach your maximum potential with an advertising agency that has experience and knowledge in optometric-specific marketing.
These agencies offer a deep understanding of the optometry industry and your patients' needs. They excel at designing strategies to improve your visibility and establish trust with prospective clients, positioning your practice for future growth by generating quality, actionable leads.
The benefits of hiring an optometry marketing agency
Consistent branding across all platforms should be aimed at building relationships with potential clients. Because of the long-term nature of health care provision, it's essential to nurture leads carefully to convert them into lifelong patients. Maximize the value you provide to clients by choosing an agency with expertise in e-commerce and product sales, which will combine powerfully with your provision of services.
Top 10 optometry marketing agencies
We've identified some of the leading optometric marketing agencies with a proven track record of managing successful campaigns for optometrist clients. Here are our top ten:
Specializes in: digital marketing for optometry and the eye care industry, highly profitable lead generation.
Top Clients: Dr. Sam Dhaliwal & Associates, Lethbridge Vision Care, Mill Woods Eye Care.
Pricing: from $1500 per month.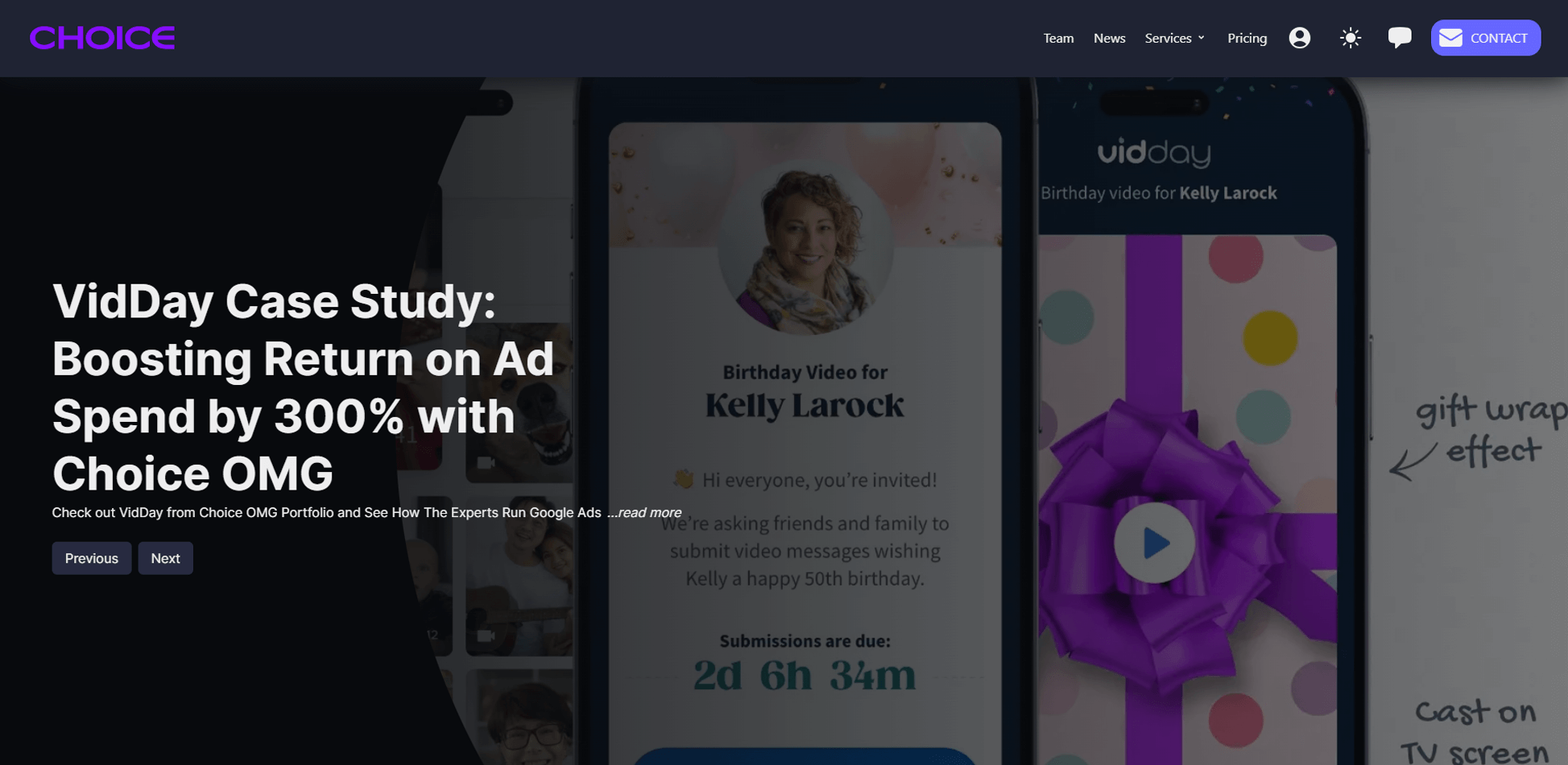 Choice OMG is a full-service digital marketing agency offering everything from website development to customized advertising companies. Expertise includes Google Ads, Facebook, and Microsoft.
Choice OMG is an excellent partner for eye care professionals looking to increase visibility and translate audience engagement into successful leads. This company is adept at creating effective digital marketing campaigns to capture a wide audience.
With Choice OMG, you'll benefit from personalized marketing services tailored to your needs. This team excels at understanding their client's needs and is responsive to localized trends in the eye care industry. Before assigning a team of specialists to work on your project, they accurately identify audience and market factors to ensure that strategies are implemented with maximum effect.
Digital marketing services include everything from custom website development to conversion rate optimization services, SEO, PPC, CRO, LinkedIn, and Facebook marketing. They also specialize in creative content production. Whatever the challenge, Choice OMG will work to overcome it effectively.
A wide range of services and a personal approach to eye care industry marketing help Choice OMG stand out in the market, with customized strategies that are suitable for companies of any size.
If you're looking for a personalized digital marketing approach developed by an agency with a lot of experience in optometric marketing, Choice OMG is an outstanding choice.
2. Marketing4ecps
Specializes in: marketing approaches for the eye care industry.
Top Clients: Lumenis, Dry Eye Summit.
Pricing: package pricing is available.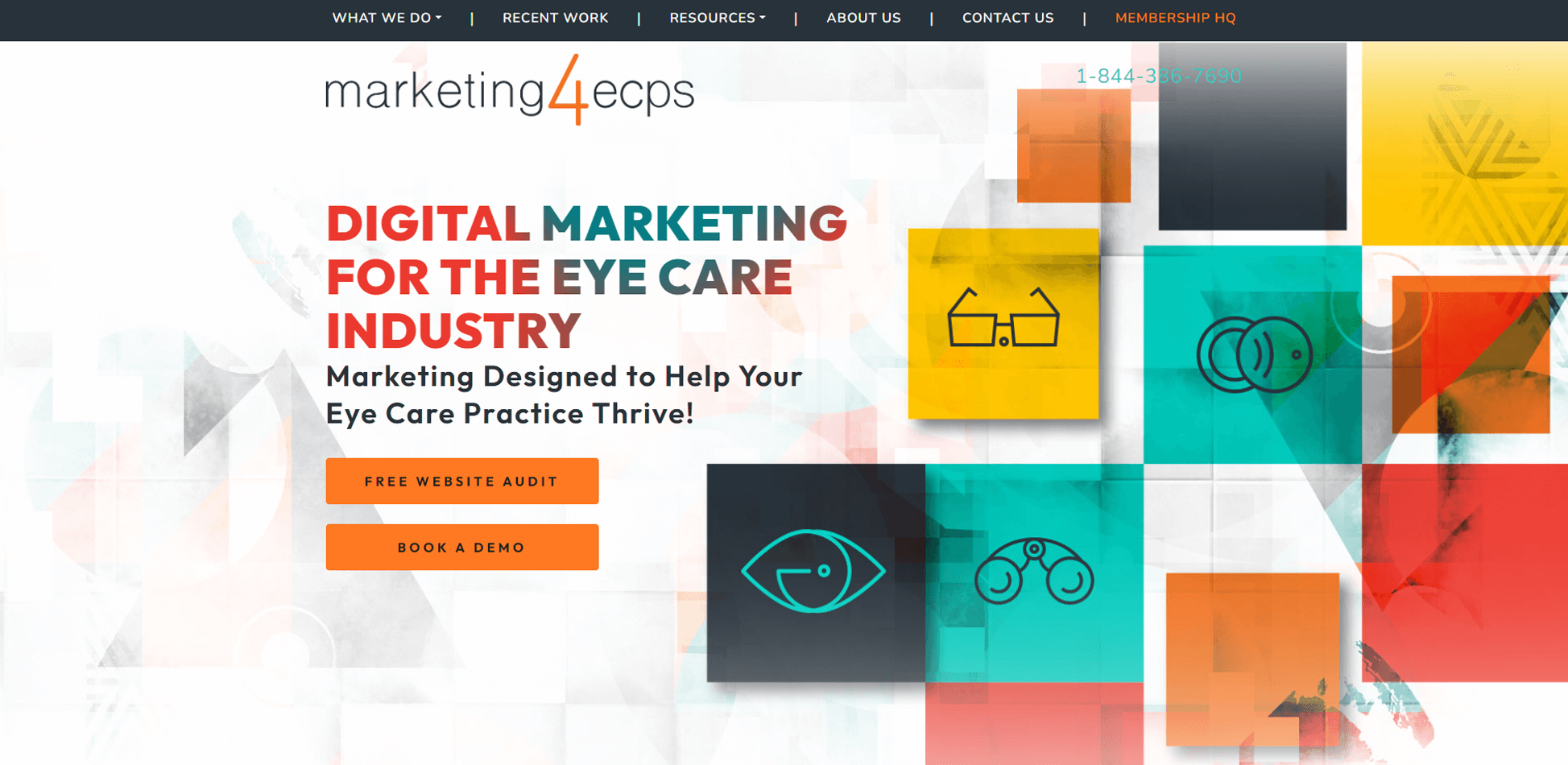 Marketing4ecps is another marketing company focused on eye care marketing solutions. This is a great choice for website development. The company has years of digital marketing experience and works with optometrists, ophthalmologists, and opticians.
Marketing4ecps marketing services range from marketing automation and branding to website creation and content writing. This company will even train you to manage your own marketing activities.
When recruiting new clients, their approach is that interesting people make interesting products. Customer reviews reflect favorably on their teamwork, honesty, positivity, and initiative.
3. Imatrix
Specializes in: digital marketing for chiropractic, veterinary, and eye care practices.
Top Clients: Anderson, Saline Optometry.
Pricing: custom, based on your requirements.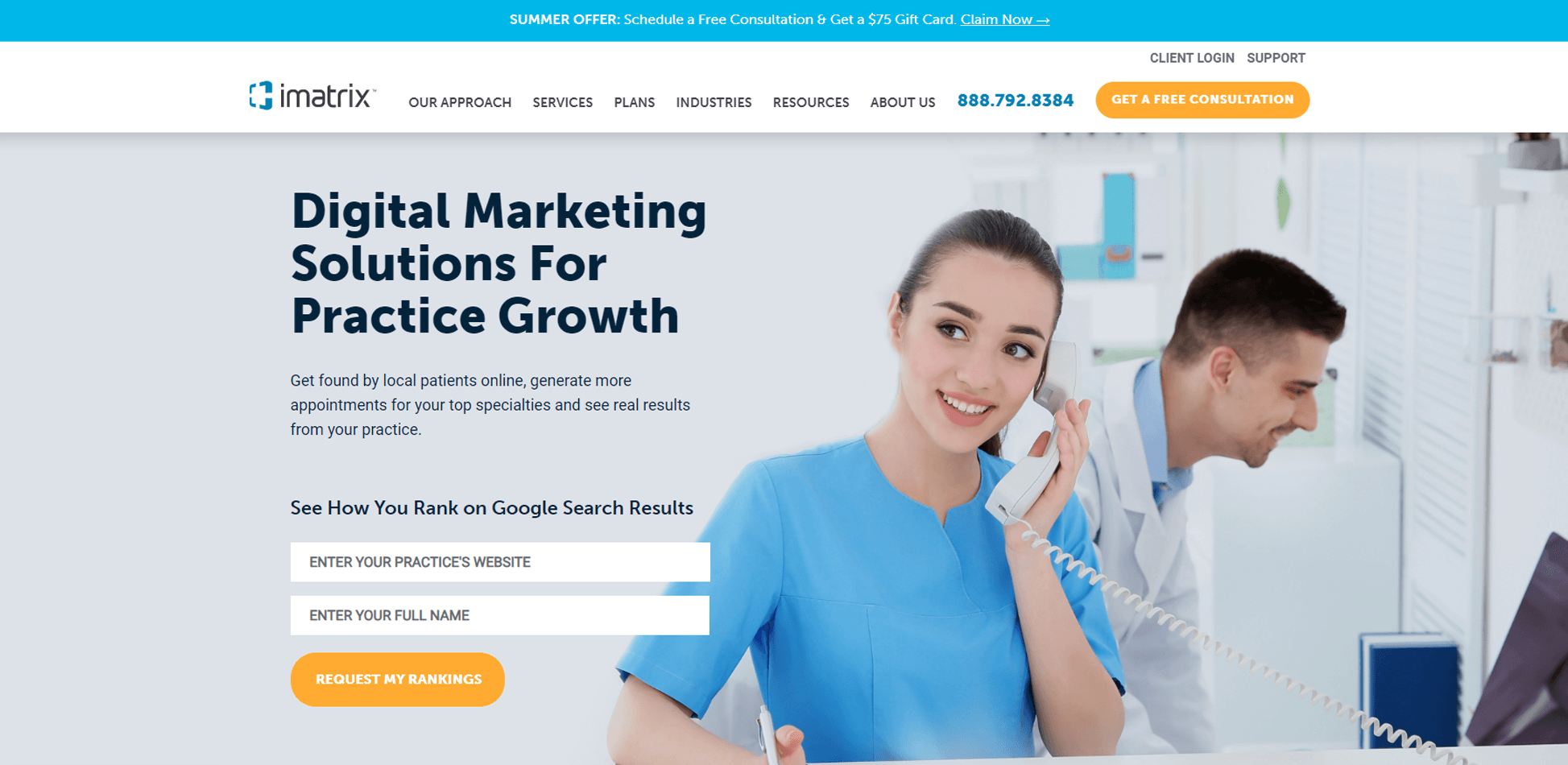 Digital marketing agency Imatrix helps healthcare providers find their ideal patients and increase revenue through proven digital marketing strategies.
In addition to search promotion, Imatrix can also help with traffic generation to boost both your organic and paid online campaigns. They use engagement tools such as telemedicine, e-commerce, and social media to attract online clients.
By integrating with your team and offering ongoing feedback and support every step of the way, this agency uses a powerful and transparent patient relationship management approach to keep you connected automatically, freezing up valuable time and resources.
4. EyeCarePro
Specializes in: digital marketing for ophthalmologists.
Top Clients: iDoc, Jobson Optical Group, PERC.
Pricing: from $109 to $1549 per month.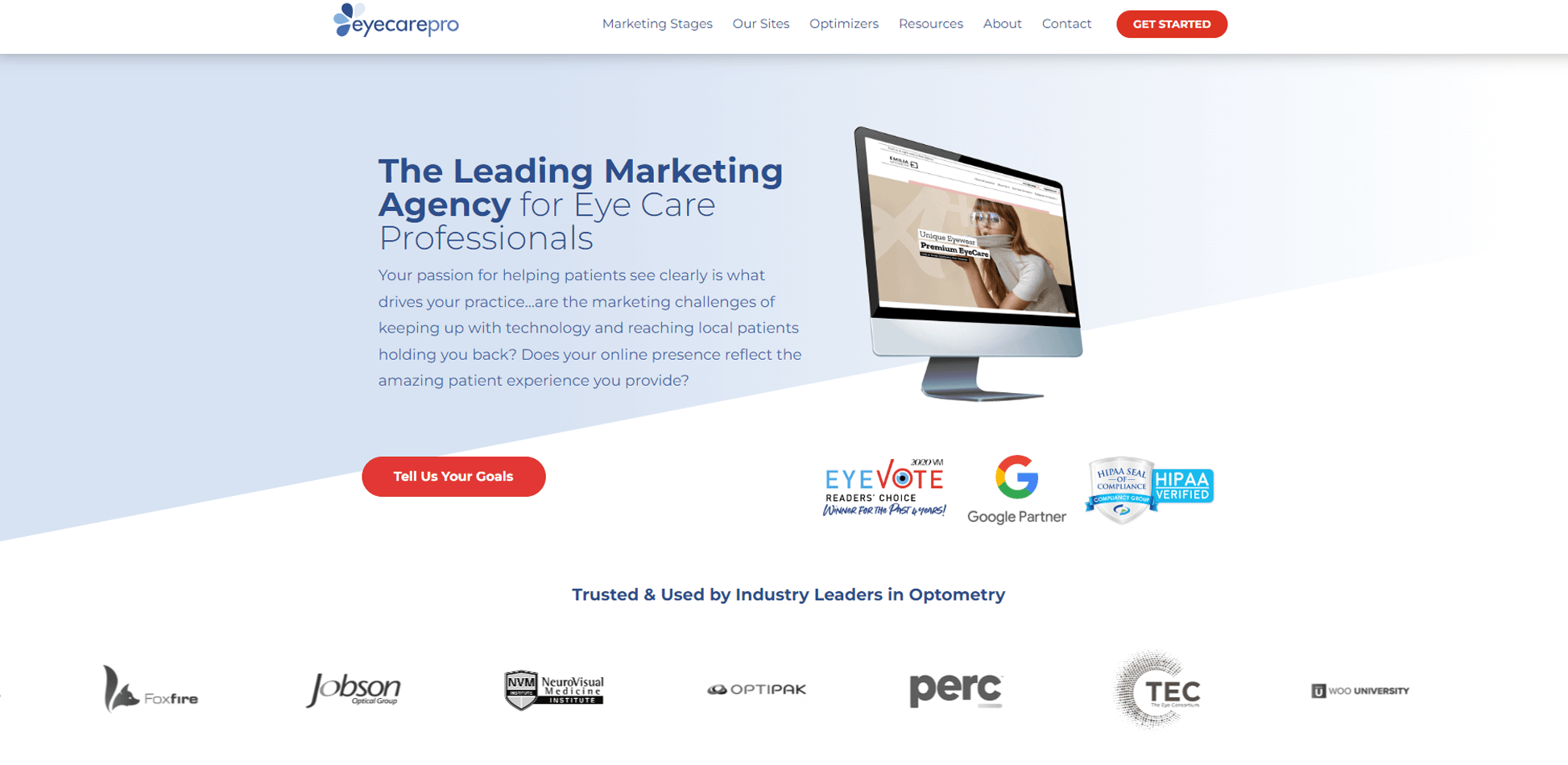 EyeCarePro focuses on enrolling new patients. The company has extensive experience with optometry, ophthalmology, and optical practices.
They take a personalized approach to clients, from practice management tools to add-ons that help speed up search engine optimization. This agency is skilled at blog post development, paid traffic source management (Google Adwords), branded website development, daily social media posts, and more. EyeCarePro also has a dedicated optometric marketing expert to analyze your practice growth, marketing campaigns, and data.
If you're looking for a group of experienced marketers, writers, strategists, designers, and technologists committed to making a difference in people's lives, EyeCarePro has you covered.
5. Adit
Specializes in: optometry marketing services.
Top Clients: Eyedeology.
Pricing: custom, based on your requirements.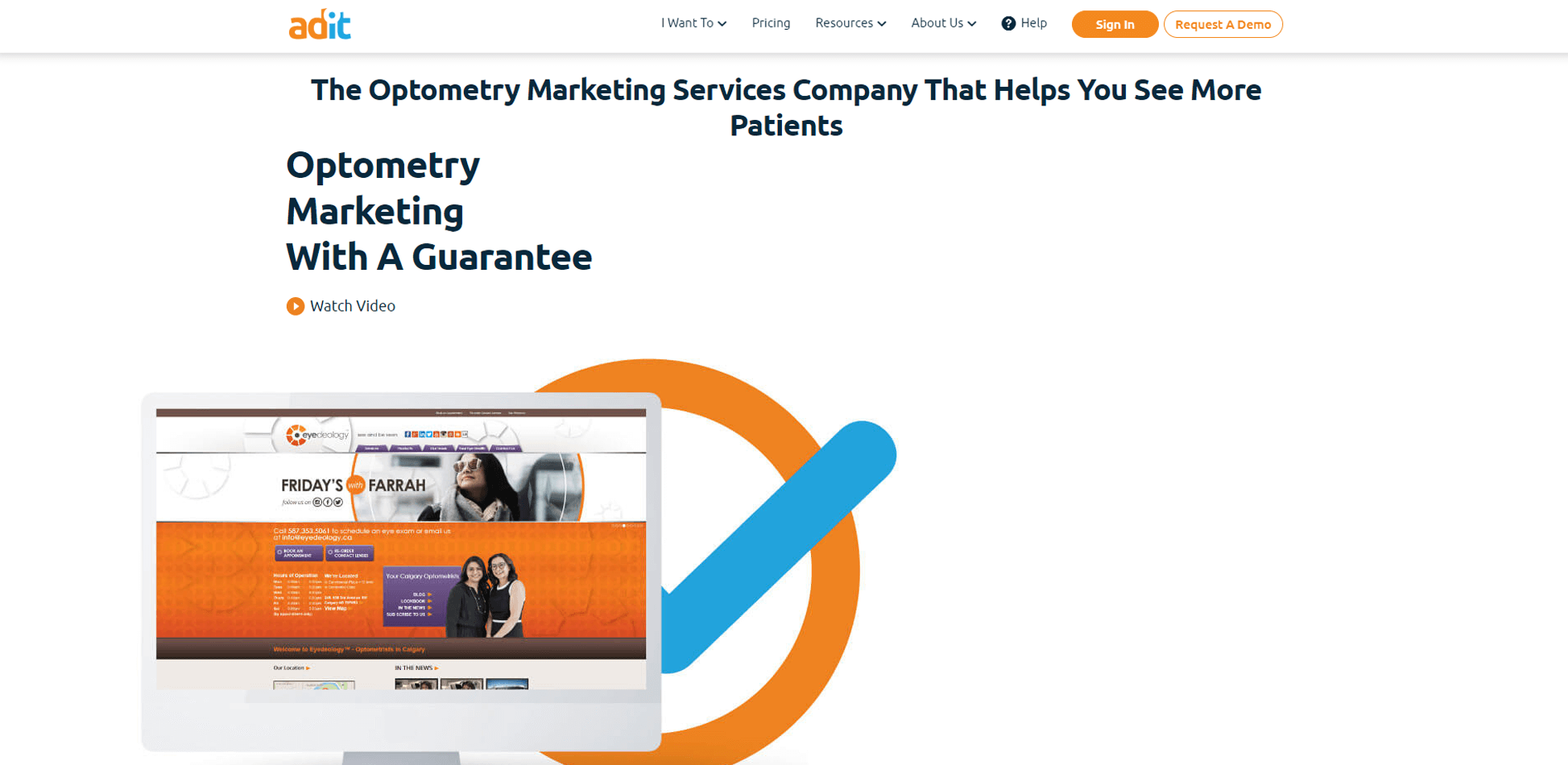 Adit offers a new patient guarantee and 30-day free trial. The company specializes in search optimization and social media.
With Adit, your website will be on trend and focused on attracting the highest-paying patients. What's more, this agency has the tools to help your company rank at or near the top of search results.
The services offered by Adit include full website development, search engine optimization, paid traffic setup, call tracking, and reputation management. In addition, they can also help with things like media marketing.
Their personalized approach makes Adit a solid choice for any optometrist who cannot afford to compromise on digital marketing.
6. Cardinal
Specializes in: performance marketing for optometry and ophthalmology practices.
Top Clients: Quigley Eye, PCLI, Cameron.
Pricing: individual, based on your requirements, with package options available.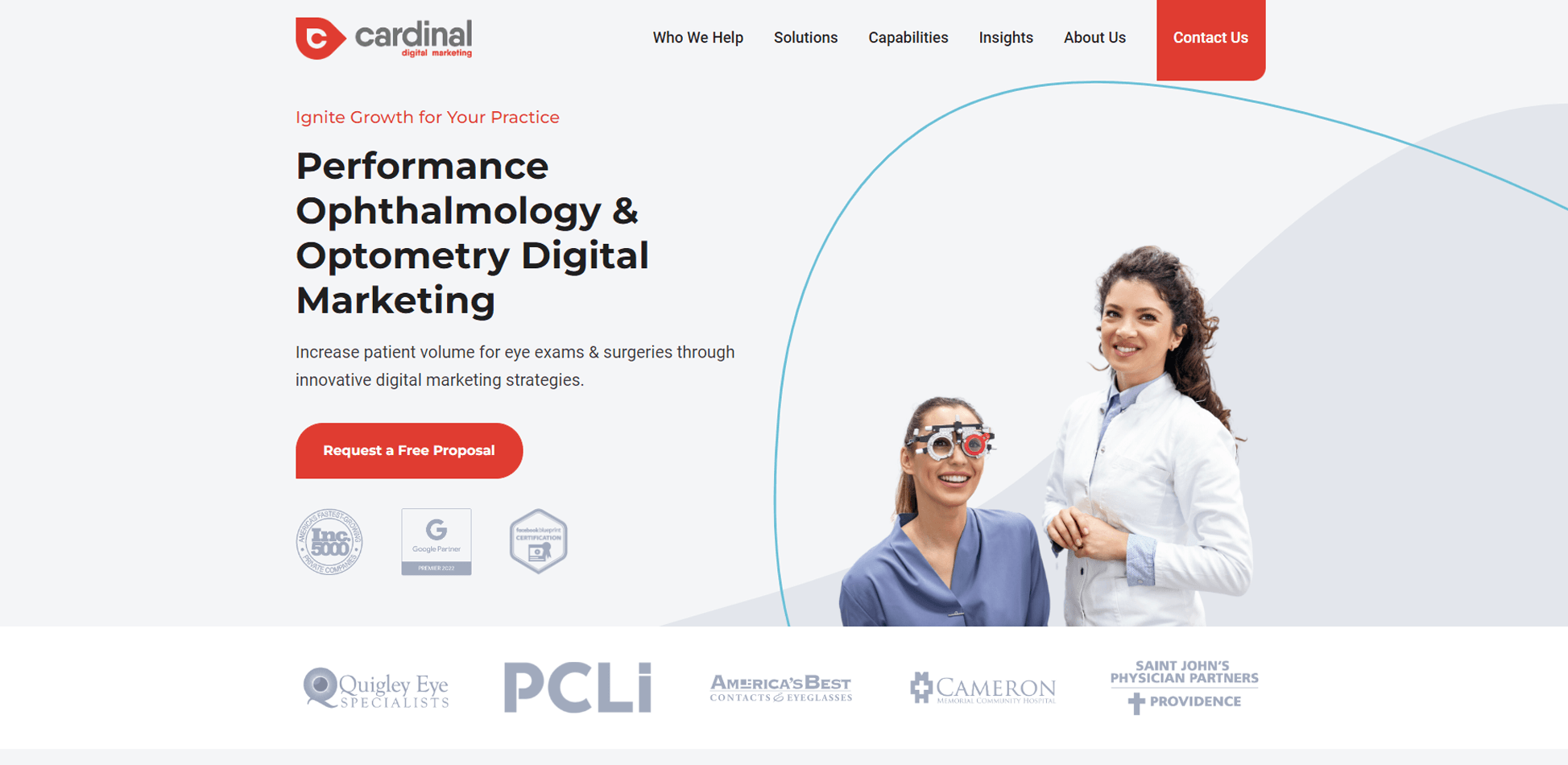 As a digital marketing agency, Cardinal is a great choice for practices that want to increase sales but isn't the best match for practices just starting out. They have a successful track record of driving real growth for medical professionals.
Cardinal is driven to achieve results. Their team specializes in promoting optometry and ophthalmology practices with multiple locations, using tools like search engine promotion, paid traffic channel optimization, website development, and analytics setup.
If you want to improve the quality of your leads through strong optimization strategies, Cardinal is the agency for you.
7. Nomadic advertising
Specializes in: optometry marketing.
Top clients: Kodak Lens Vision Center, Alcon.
Pricing: individual, depending on whether you need an integrated approach or specific services.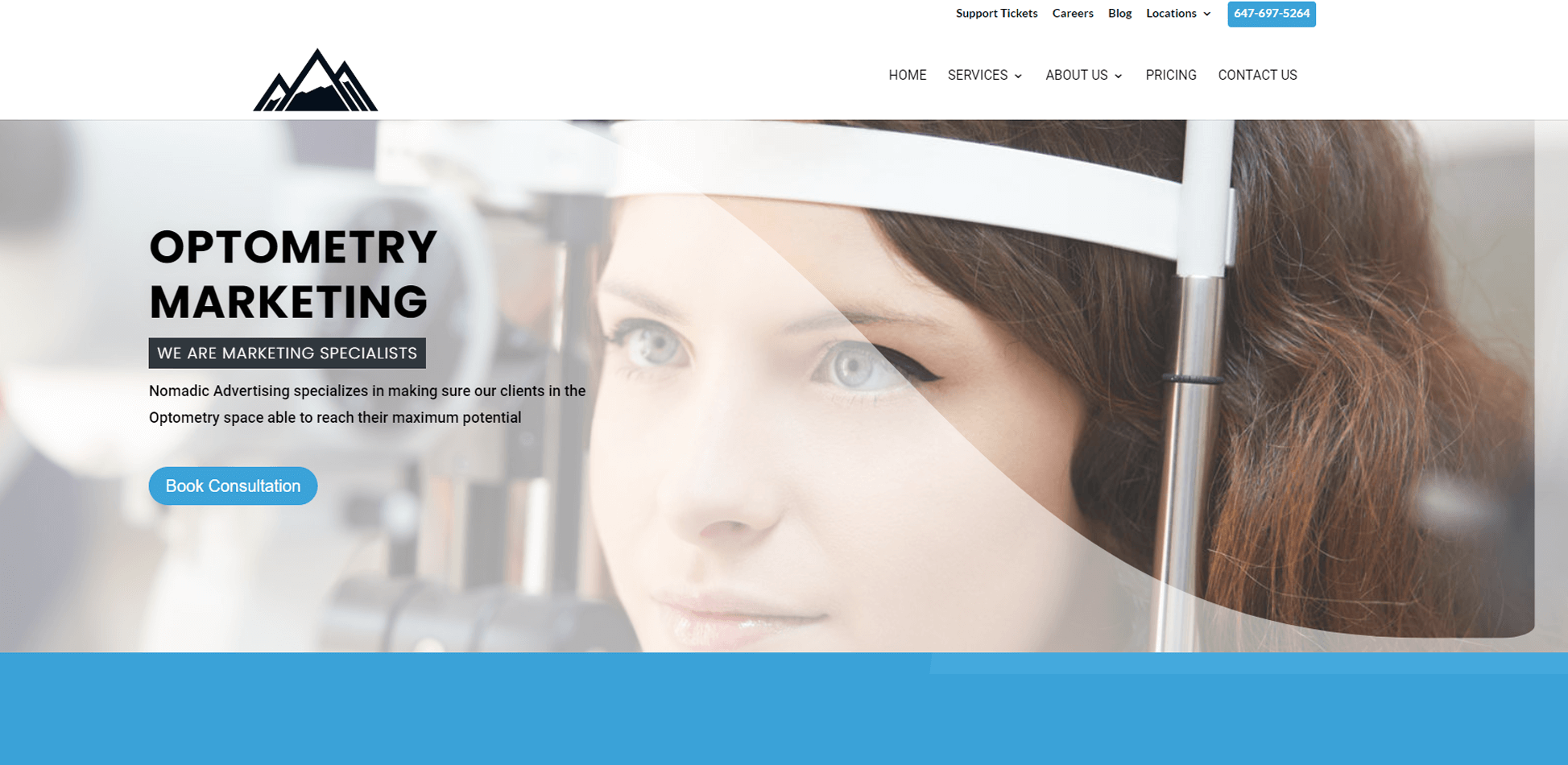 Nomadic Advertising consists of professionals experienced in working with many companies across a wide range of industries. This includes optometry as well as healthcare, financial technology, blockchain, construction, and others. It's a fantastic choice for those who value results and transparency.
Nomadic Advertising's marketing services include search engine optimization and paid traffic customization. They also offer website development.
An individual approach to each client, backed by data, is what sets Nomadic Advertising apart from other digital marketing agencies.
8. Lead to Conversion
Specializes in: healthcare marketing.
Top Clients: New York Bariatric Group, Mercy, Virtua.
Pricing: custom, based on your requirements.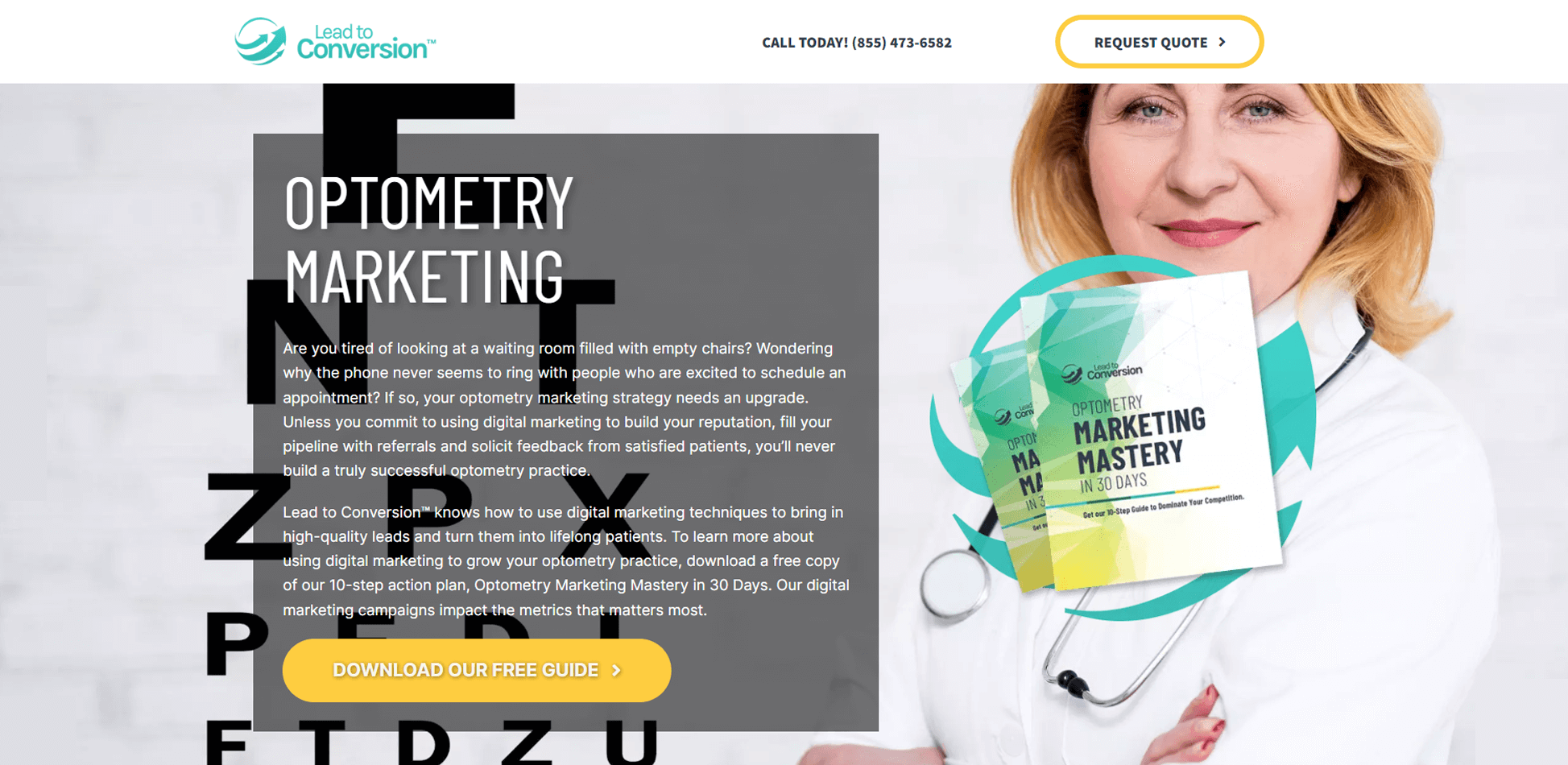 Lead to Conversion believes that healthcare marketing is done as people research symptoms and other medical information online before looking for a doctor to contact. They're focused on strategies to engage this audience.
This agency is good at website development, paid and organic traffic optimization, and targeted advertising mailings. In addition, the company's specialists incorporate local SEO promotion and social media marketing strategies.
A comprehensive Lead to Conversion content strategy includes content marketing, plagiarism checking and editing, on-page search optimization, and CMS upload and formatting services.
This company promotes content marketing, feedback collection, and referral programs as the most successful ways forward. If you share this opinion, then Lead to Conversion is an ideal agency for you.
9. Eyevertise
Specializes in: marketing services for eye care practices.
Top Clients: Bay Hills Eye care, Framed Eye Care, AFECC.
Pricing: from $125 per month; a free audit is provided.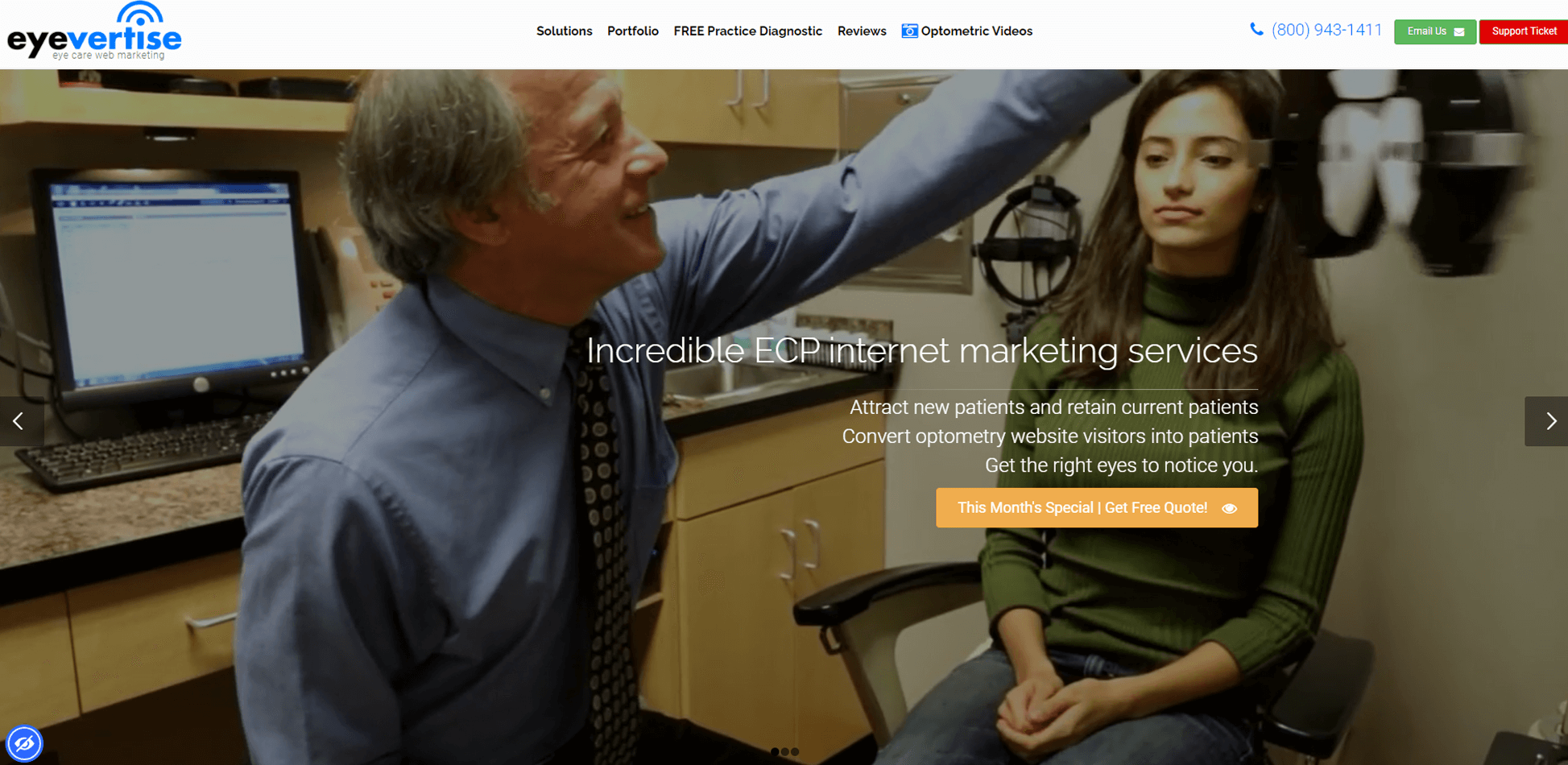 If you need to scale your eye care customer flow in the USA, look to Eyevertise. This agency works with clinic owners who are determined to succeed in a competitive B2C environment. They create websites, increase clinic visibility, and attract potential new clients.
Their team of experienced developers and UI/UX designers are intimately familiar with the evolving world of web marketing, meaning your website will be continuously updated to meet the changing needs of your practice.
Eyevertise is committed not only to site design and management, but also to social media, digital presence, and search marketing strategies.
Eyevertise's team of web developers is suited to eye care practices that want a competitive edge in the USA.
10. Optometry Marketing
Specializes in: digital marketing for optometry.
Top Clients: the company does not share this information.
Pricing: custom, based on your requirements.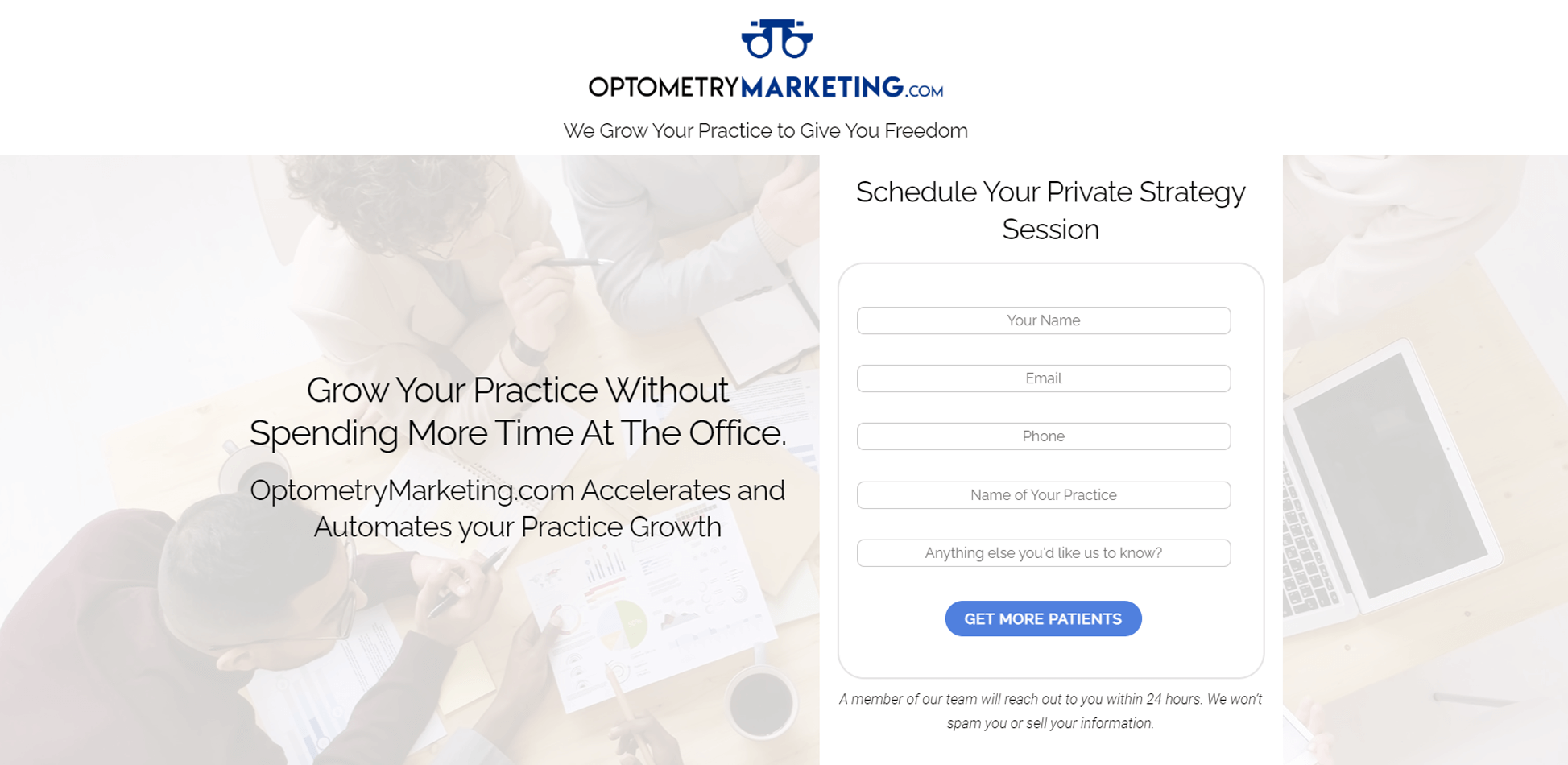 Optometry Marketing is a relatively new digital marketing company founded by an optometry specialist. This means they're experienced in seeing firsthand the challenges faced by practice owners and can work towards solutions to overcome a competitive environment.
With Optometry Marketing, eye care companies can count on strategic planning, performance measurement, and comprehensive consulting. They even offer a free strategy session to increase your digital literacy and develop a basis for understanding how to create your marketing plan.
As a newcomer in the field of optometric marketing, this agency is suitable for practices requiring novice marketing experience. Be prepared to accept hypothetical results rather than a proven track record, but with a foundation in optometry, this will be an agency to watch.
Ready to hire the right optometry marketing agency?
Optometrists comprise a niche market, so you'll need marketing strategies to match. Choosing an agency with experience and knowledge specific to the industry is the surest way to generate leads that are convertible.
Capturing market share will require an intricate understanding of changing trends to capitalize on lucrative optometric opportunities. This includes targeting an aging population of economically-influential adults over the age of 65, which now comprises approximately 20% of Canada's population.
Optometric marketing specialists need to be highly attuned to industry advancements. This will enable them to recognize and seize opportunities to generate profit by upselling and acquiring new technologies and treatment options.
Healthcare professionals know the value to be gained by offering personalized care. That same level of engagement with a marketing agency will give your optometry practice an edge when it comes to developing market-specific strategies in your local area.
By partnering with an optometric marketing specialist, your practice can capitalize on every opportunity for profitable future growth. Don't be overlooked.
Schedule your FREE consultation with a digital expert to discuss your needs.👇