PPC in the left corner and SEO in the right.
PPC Ads vs. SEO: The best place to invest your next advertising dollar
Compare the benefits of Advertising vs. SEO.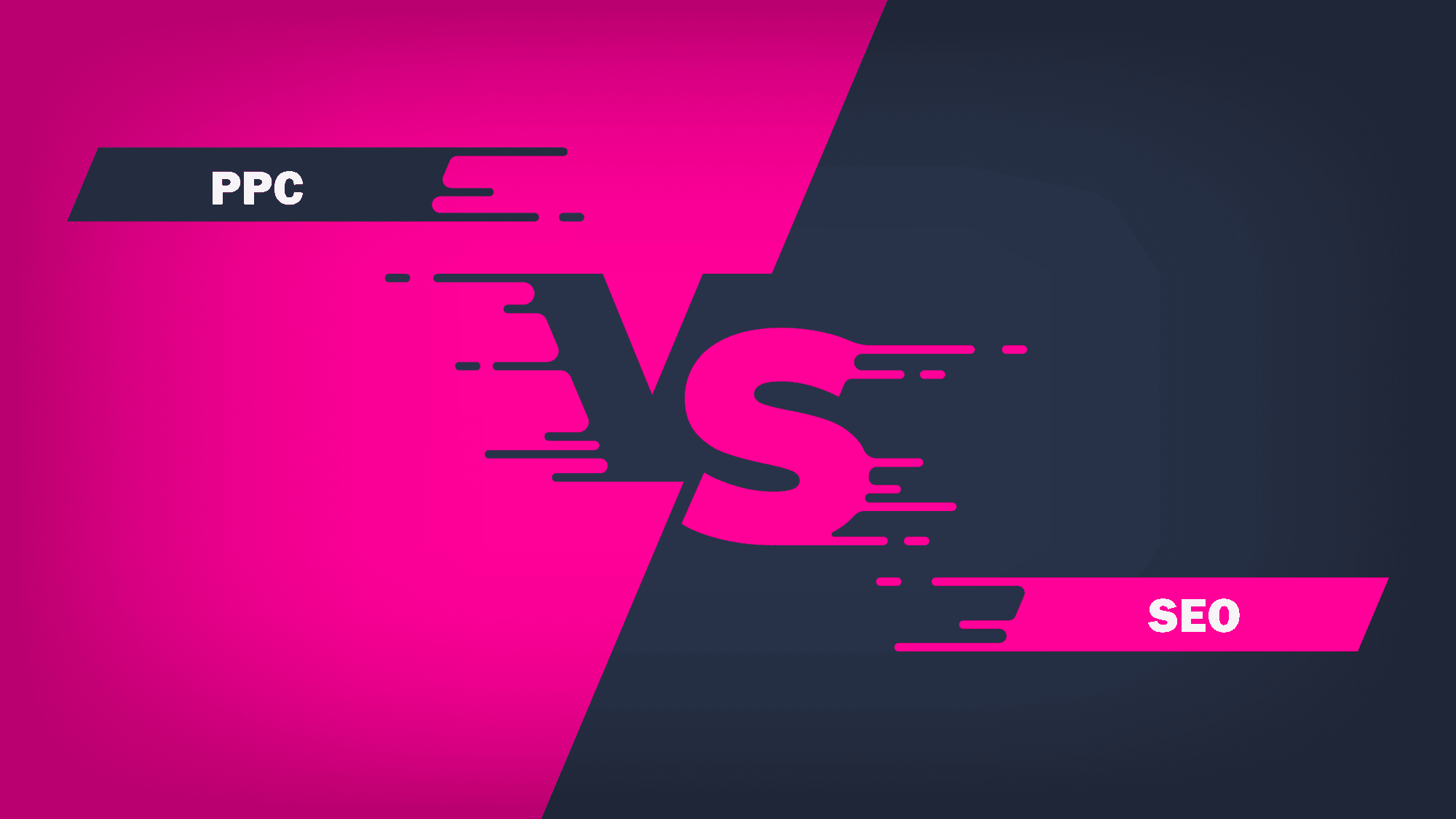 Consider these top distinctions between PPC (pay-per-click) ads and SEO (search engine optimization) rankings before making investment decisions.
Improvements to your SEO can help you become more relevant to searchers. Being listed in search results is free – in fact, you couldn't pay for it even if you wanted to. PPC ads are delivered advertisements in searches, apps, and across the web. Running ads does not help your SEO rankings, despite the myths and claims. However, PPC ads can help connect with a broader audience online.
So which should your business use: SEO or a PPC option like Facebook or Google Ads? Tell us about your business, and we'll help you decide.
What is PPC advertising?
Pay-per-click (PPC) advertising is a form of digital ad buying where you place advertisements online and pay only when they get clicked. The last decade has seen all kinds of web advertising pop up across the web in banners, search ads, and now video advertising. Although some digital ads have different payment requirements and are not PPC in the literal sense, they usually fall within the PPC category.
Facebook Ads, Microsoft Advertising, and the well-known Google Ads (formerly AdWords) are the beefy platforms most small businesses will want to consider using. It is worth noting there are more networks you can advertise on, but they are unique.
Search ads are the great advertisements that show up on top of the regular search results or beside them – you bid on the chance to show ads. If you advertise on the right keywords, your ads are suitable for people looking for what you have to offer – and that's great for business.
You have a lot of control over when and where your ads appear. You can adjust ads quickly and easily. Compared to SEO, ads are easy to fine-tune on the fly to get the most bang for your buck. SEO is much slower.
What is SEO?
SEO, or Search Engine Optimization, is the practice of making your content more relevant to searchers. You try to have the best content, which creates more potential to improve your site's visibility to search engines and their users – in other words, it can help your site show up more often in relevant searches. When you show up as a search result, you don't pay anything. Free is always a great thing.
There are technical requirements behind the structure and tagging of this content, and its quality is not measured directly. Robots crawl the web and look at how your content is linked to other sites or whether it stands alone without any connection to the broader web. I do talk about this in the service section if you are interested.
You want your content to be excellent, accessible and ensure all the correct tags are in place. It can take time for this to happen, and there is no sense in trying to "game" the system in 2021.
It takes time for blogs, customers, associates to talk about your content and link to it. When they do, this can also help your ranking and improve your relevance to similar sites.
| | | |
| --- | --- | --- |
| | PPC | SEO |
| Cost to Appear | Yes | No |
| Time to Change | Fast | Slow |
| Training | Yes | No |
| Monitor | Frequently | Occasionally |
| Measurable ROI | High level of direct attribution | More challenging to attribute return to specific investments |
Comparing SEO to PPC on their differences
Prescriptive Advice
If you have a site more than 3 years old and don't yet rank well on Google, then maybe stop trying to rank on Google. Focus on your Facebook business page, your Google My Business profile, and other channels. All you need to do likely is get more reviews and feedback on your content. If you need to generate business, use Ads.
If your business is relatively new, invest time into understanding how to communicate online with your customers. Ensure you are sharing and promoting your content across all channels and keeping it meaningful to your users. Good communication practices and online awareness will help you rank in search quickly.