SEO with Choice OMG: Your Best Bet for Search Domination
Choice offers exceptional SEO services that include consistent monitoring, expert team members, tailored approaches, complete packages, and a drive to innovate and succeed. With personalized attention, they help small businesses achieve big results and attract more customers.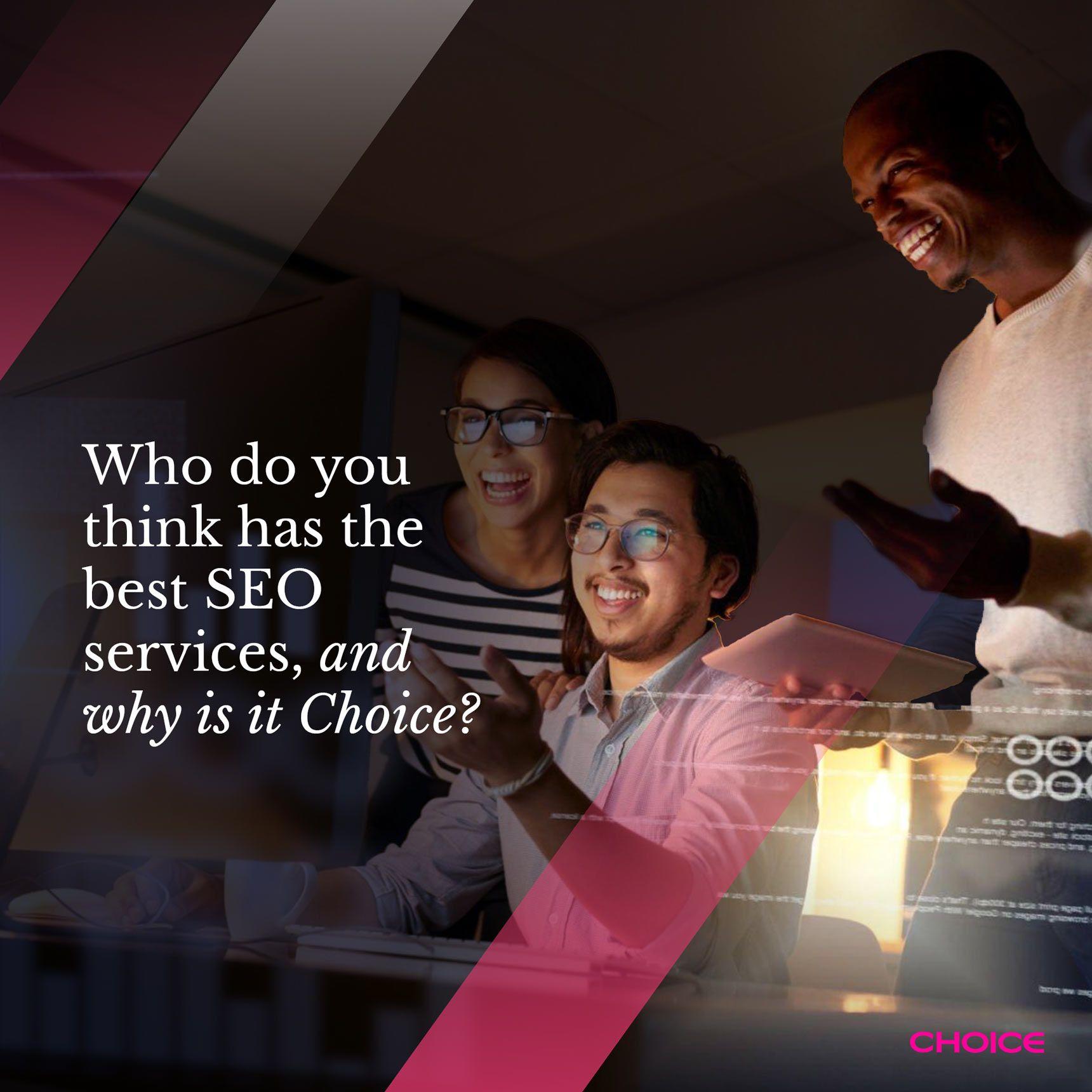 In the dog-eat-dog world of digital marketing, Choice is your secret weapon for SEO domination. We don't just optimize; we revolutionize your search engine standing. Google will not only know your name but will roll out the red carpet for your site.
We're the underdog that packs a punch, constantly innovating to keep your site on Google's radar and your customers clicking. Here's why we're the Rocky Balboa of SEO:
Relentless Monitoring: Your SEO Bodyguard
We're not just an SEO company; we're your round-the-clock SEO bodyguard. We keep a hawk eye on your metrics, constantly adjusting to the ever-changing algorithms and emerging techniques. We're the David to your digital Goliath, packing a powerful SEO slingshot.
All-Star Team: The Avengers of SEO
Our team is the Avengers of the digital world. We've got designers who Picasso would envy, programmers who could out-code the Matrix, writers who make Shakespeare look like an amateur, and SEO wizards that Google itself could learn a thing or two from. We may be small, but we're fierce, and we've got your SEO covered.
Custom-Crafted Strategies: Your SEO Tailor
Forget the cookie-cutter SEO approach; we're the tailors of the SEO world. Drawing from our vast portfolio, we create an SEO suit that fits your business perfectly, enhancing your search engine visibility and saving you from futile SEO practices.
All-Inclusive Packages: Your Digital Powerhouse
Choice OMG isn't just an SEO service provider; we're your digital command center. From hosting and custom design to SEO, advertising, website development, and content creation, we're your one-stop digital shop. Our seamless coordination of services amplifies your online presence, ensuring your brand resonates across all platforms.
Indomitable Spirit: Your Success is Our Holy Grail
We're small, but we've got the heart of a lion. Our insatiable drive to succeed pushes us to build an all-star team, invest in cutting-edge training, break creative boundaries, and collaborate to find solutions. We laugh in the face of challenges and aren't too proud to ask for help. Your success is our holy grail, and we'll crusade to secure it.