Top website trends you won't want to miss
Trends aren't just for fashionistas. They're opportunities to cultivate new ideas and foster development. If you don't pay attention, your business could be left behind as web developers jump on exciting trends that are improving user experience and engagement.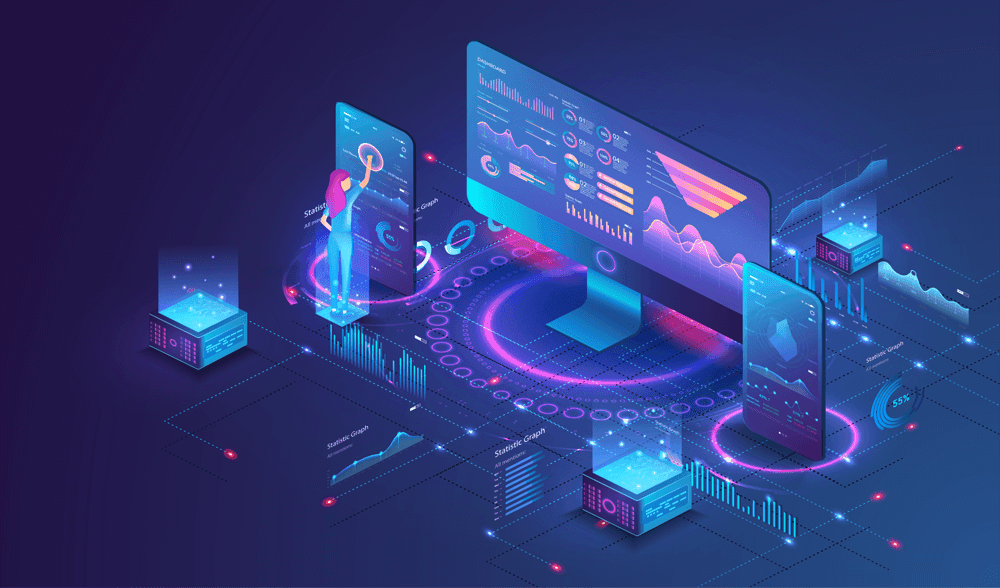 If you're still lagging with a DIY or cookie cutter template website, it's time to get in the game with one that's professionally developed and custom-built. Website designers are skilled at incorporating trending developments in the industry, and will ensure that your business' online presence ranks at the top of searches.
Put yourself at the forefront of the digital revolution, and you'll see an increase in traffic, conversions, and profitability … because business owners know that success is always in style. Here are some of the top trends we love for new web builds in 2023.
Speed
Yes, trends can change quickly, but not this one. Lightening fast loads times are here to stay, with an audience that's grown accustomed to immediate gratification at their web-surfing fingertips.
Sites that load quickly not only see more traffic, but also have higher conversion rates. In fact, page speed is both a direct and indirect ranking factor, with slower pages seeing higher bounce rates and reduced dwell time. Improvements of as little as a second matter significantly. If you're not keeping up with this trend, say goodbye to your audience, who will move on to your competitor's website faster than you can say «refresh».
Thumb-friendliness
Responsiveness has been trending for a while, with 58% of users now accessing websites from mobile devices. It's absolutely essential that your site both looks good and functions well, no matter the size of the screen.
But thumb-friendliness is emerging as a new trend, which brings greater awareness not only to what devices users are on, but how they're using them. If you're reading this on your phone right now, take a look at your hand placement. It's likely that your fingers are wrapped around the back as you navigate through this article with your thumb. Pay attention to the centre part of your screen that's easiest to reach: this is precisely where you'll want to focus when designing your new webpage.
Custom graphics
In an era of custom-built web designs, there's no space for cookie cutter graphics or photos. Stop using stock images; instead, hire a graphic designer to create a custom visual representation of your brand with uniquely interesting and eye-catching visuals.
Better yet, be experimental about how you blend graphics and photos. You've likely already noticed this trend on your socials, but it's now moving into web design, as well. Graphics that overlay photos add interest and offer additional opportunities for branding and messaging that you can't achieve with stock images alone.
Video
And speaking visuals, don't stop with graphics. Video is having a heyday in web design, and we don't just mean linking to your favourite viral content. Instead of embedding video, create your own material with a clear purpose in mind. Visual representation of branding is particularly impactful, and video content engages viewers in a way that increases their retention of your messaging.
Dark mode
Ever experienced dry eyes or headaches after a long day at your computer? Screens are notoriously hard on our eyes, but something as simple as flipping to dark mode can help to prevent irritating symptoms.
Admittedly, this isn't exactly a new trend, since early computers were originally constructed in dark mode, only shifting to a lighter style because of user preferences. However, we're now spending more time on screens than ever before, and in our quest to give our eyes some relief, users are rediscovering a love for dark mode.
On the plus side, dark mode can look really slick, so working intentionally with dark mode designs is a boon for cutting-edge creatives. It's always been trendy to capitalize on how your audience engages with your page, and in 2023, that means you should invest in - and optimize for - dark mode options.
Frosted glass effects
Here's a trend that's legitimately new on the scene - and a lot of fun for designers. If you like working with the portrait setting on your phone's camera, you'll love glassmorphism that works similarly to blur the background into a gradient look.
This technique allows you to add colour without distracting from your text and is a fresh take on incorporating photography. It combines translucency with image depth in creative ways to provide designers with a new tool that highlights the content they want to get noticed.

Unsure how to make the most of these and other website trends in 2023? With templates and DIY websites definitely not on the trending list, it's best to partner with a professional website design company. Not only will they know all about how and when to incorporate new trends in the industry, but they'll also be able to audit your existing website from top to bottom, giving you solutions that will increase user experience and ultimately increase your conversions. Professional web design is definitely the way to go if you want to see continued success in the exploding digital realm. And we have to say, success looks good on you.