Case Study: Choice OMG's Web Design Boosts MBB by Jess's Business Growth
Explore Choice OMG's case study on how their web design propelled the growth of MBB by Jess, showcasing the transformative power of a captivating online presence.
At Choice OMG, we take pride in creating extraordinary online digital spaces that elevate businesses and deliver exceptional results. One of our recent success stories is the transformational web design project for MBB by Jess. Through our collaboration with Jess, we crafted a visually stunning and functional website that not only captured the essence of her beauty business but also propelled its growth. In this case study, we will explore the remarkable outcomes achieved by MBB by Jess through our web design expertise.
Ethereal and Inclusive Design
When our designer embarked on the Bower Eye Care website project, she understood Jess's vision: an ethereal and feminine online space that radiated inclusivity. Taking inspiration from the client's existing logo, our talented designer, Kierra, meticulously crafted a website that mirrored the essence of Jess's business. The result? A calming and well-organized digital presence with creative touches that seamlessly blended function with beauty.
Diversified Business Plan and Engaging User Experience
MBB by Jess offers a diversified range of services, including administrative support and Reiki energy healing. To showcase these distinct offerings, our designer utilized Elementor to build a site that features separate pages for each service. These pages incorporate compelling calls to action, enabling visitors to book discovery calls or Reiki sessions effortlessly. Moreover, at the bottom of the website, we integrated a Mailchimp form that allows clients to subscribe to MBB's two different newsletters, ensuring effective communication and engagement.
Artistic Touches and Unforgettable Mood
What sets MBB by Jess's website apart is the artistic flair seamlessly integrated into the streamlined design. Building upon the softly-drawn greenery of MBB's logo, Kierra masterfully incorporated similar visual elements throughout the website. The unexpected yet captivating palette of purple and peach exudes femininity while embracing inclusivity.
To further enhance the bohemian vibe, elegant single-line illustrations were employed, perfectly complementing the flowing, scripted font. Through skillful overlapping of textures and images, the pages maintain a fresh and light aesthetic. Additionally, a captivating scrolling gallery was incorporated to showcase heartwarming family photos. Despite the high level of functionality, the website's design remains organic and approachable, leaving a lasting impression on visitors.
Continuous Growth and Owner-Generated Content
The success of this web design project extends beyond its initial implementation. We proudly handed over the website to Jess, empowering her to actively contribute to its growth through owner-generated content. With the ability to update and modify the website, Jess ensures that it remains a dynamic reflection of her evolving beauty business. By consistently providing valuable and engaging content, Jess has witnessed remarkable growth and customer engagement, establishing herself as an industry authority and attracting new clients.
Choice OMG: Elevating Your Digital Space
At Choice OMG, we understand that in today's digital landscape, a captivating online presence is crucial for business success. Through the fusion of art and technology, we create superior websites and campaigns that surpass expectations. Whether you are a beauty business seeking to make your mark or a startup in need of affordable marketing channels, we have the expertise and creativity to deliver exceptional results. Let us craft an extraordinary digital space for you and help your business thrive.
The client's business plan is diversified, offering administrative support as well as Reiki energy healing. Using Elementor to build the site, our designer created complimentary pages for each service. Both include a call to action, whether to book a discovery call or a Reiki session. At the bottom, a Mailchimp form enables clients to subscribe to the two different newsletters MBB offers.
Art + design
What makes this website stand out is the artistic feel that was integrated into the streamlined design. MBB's logo includes softly-drawn greenery, and Kierra expertly mirrored this throughout the new website. Shades of purple and peach are an unexpected palette, achieving a feminine yet inclusive effect.
Elegant single-line illustrations elevated the bohemian vibe, which the designer echoed in the flowing, scripted font. She adeptly overlapped texture and images to keep the pages fresh and light, and incorporated a scrolling gallery to showcase family photos. Even though the site is highly functional, nothing about it feels boxy or technical.
Evoking mood
This website is one of our designer's favourites, and for good reason. As businesses shift more of their activity to the digital environment, it is essential that your online space reflects your organization. This project is an outstanding example of how a website can create atmosphere to leave a lasting impression on new clients.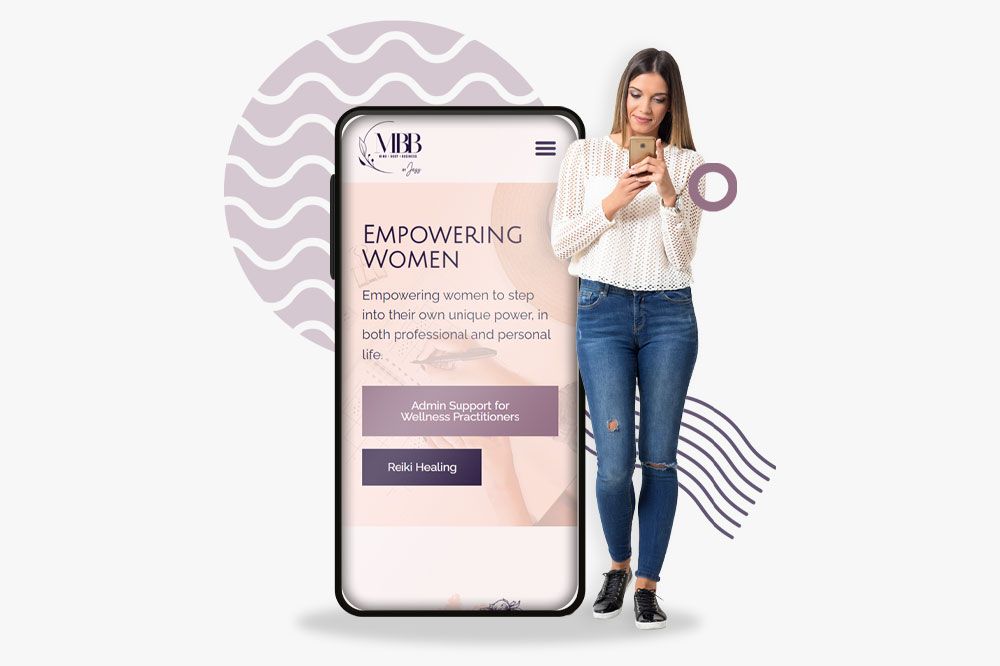 At Choice, we elevate the ordinary by combining art and technology into superior websites and campaigns. Find out more about how we can create an extraordinary online digital space for you.