When you want the best teeth possible, you want an oral surgeon who can expertly mill them from Zirconia. That's what this campaign is all about.
Conversion Strategies For Dental Implant Practices in The USA
We blow the ppc competition away. We work harder, stay closer, and we always win. Whether it's Google Ads, YouTube, Meta, or SEO - Choice OMG does dental implant marketing really well.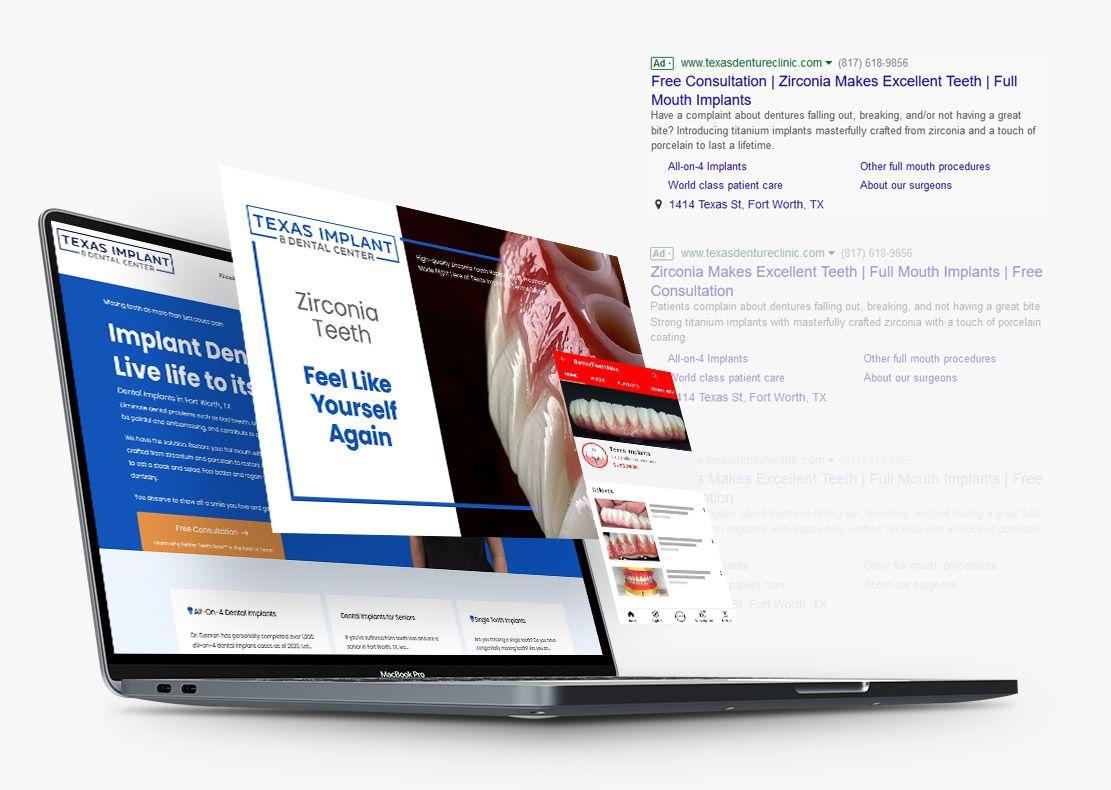 When marketing dental practices, you need a digital marketing agency that understands your industry and how to get results. At Choice OMG, we specialize in creating customized marketing campaigns for dental practices nationwide. We have a proven track record of success, as demonstrated by our work with Texas Implant & Dental Center and other clients.
One of our core strategies is using creative sets, which are sets of creative messages that can take any digital form, from video to text ads. Our innovative team is encouraged to use their imagination to create unique and impactful deliverables that fit into each creative set. We assemble these products into their respective creative sets, schedule the campaigns, and sequence the ads to build up our audiences.
But we don't just rely on creativity to drive results. We also use innovative tools such as server-side tagging (SST) and offline conversion imports to protect patients' privacy while collecting valuable data. We use SST to control what we share and when we share it, allowing us to clean up and manipulate the data we send to make it more relevant to what we are doing with it. Additionally, we use offline conversion imports to evaluate patient opportunities manually, ensuring that we deliver the most accurate results.
To further refine our strategies, we use competitive analysis tools like ahrefs, semrush, and web searches to get the shape of current web traffic. This helps us understand critical competitors' services, budgets, and traffic levels. From there, we build and adopt segmentation models to group audiences based on decision-making style and key influencers. This allows us to craft messages that resonate with potential customers and deliver maximum impact.
Our expertise and practical approach to generating leads for your dental practice can deliver significant results. Our work with Texas Implant & Dental Center resulted in a 400% increase in conversion rate, double conversions, and audience thresholds that were met for enhanced targeting and conversion tracking.
Staying Ahead of the Competition: How Our Competitive Analysis and Patient-Focused Research Drive Dental Marketing Success
At Choice OMG, we understand that staying ahead of the competition is essential to success in the dental industry. That's why we use digital tools like ahrefs, semrush, and web searches to analyze key competitors' current web traffic and competitive advertising history. This helps us to identify the services, budgets, and traffic levels of other dental practices in your area, allowing us to create a custom marketing plan that sets your course apart.
But we don't stop at analyzing the competition. We also research patient behaviour and preferences extensively, leveraging insights from American and international scholarly publications to inform our marketing strategies. This research allows us to create patient-focused marketing campaigns that resonate with potential customers and drive results. For example, we discovered that after Taiwan joined the WTO and capped the price dentists could charge for their services, dentists began marketing their non-capped services, which accounted for only 10% of their total services.
At Choice OMG, we combine cutting-edge digital tools and strategies with extensive research and industry expertise; we can help you stay ahead of the competition and attract the patients you need to thrive.
Targeted Dental Marketing: How Our Strategic Segmentation and Creative Approach Drive Patient Engagement and Practice Success
From this research, we built and adopted segmentation models. We use segmentation models to group audiences based on decision-making factors, including the decision maker, their decision-making style (using Henderson's Cognitive Factors model), and key influencers of decision-making for medical procedures.
With a segmentation plan in place, we made an excellent target audience analysis chart and identified the creative set for each audience.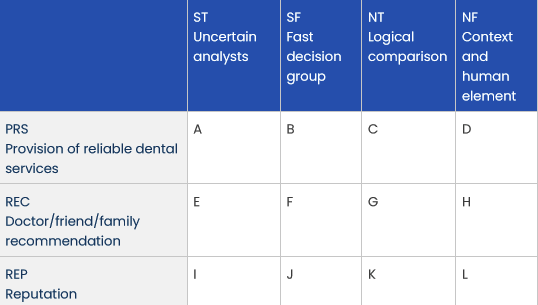 By understanding your patient's needs and preferences, we can shape targeted messages that capture their attention and resonate with their unique perspective. We create customized target audience analysis charts that allow us to identify the creative set for each audience, which can be translated into digital campaigns or ad groups. These creative sets are a "Set" of creative messages without any restrictions on their digital form, allowing us to be innovative and creative in our marketing approach.
With our strategic segmentation and creative approach, we can help your dental practice reach and engage the patients you want to attract. Contact us today to learn more about our customized marketing solutions and how we can help your practice succeed.
Unleashing the Power of Creative Marketing: How Our Visuals and Ads Drive Patient Engagement and Boost Your Dental Practice Success
At Choice OMG, we understand that dental marketing requires more than just strategy and research - it also requires creative, attention-grabbing visuals that showcase your practice and services. That's why we have a talented, innovative team that can bring your marketing campaigns to life.
One of our most impressive visuals is a picture of the high-quality zirconia implant derived from our careful planning and research. This image highlights the quality of our work and the exceptional results we can achieve for your practice.
In addition to stunning visuals, we also create video, banner, and text ads tailored to each creative set and targeted audience. Our creative designers use their imagination and expertise to develop deliverables that fit seamlessly into each campaign, ensuring that your message is communicated clearly and effectively.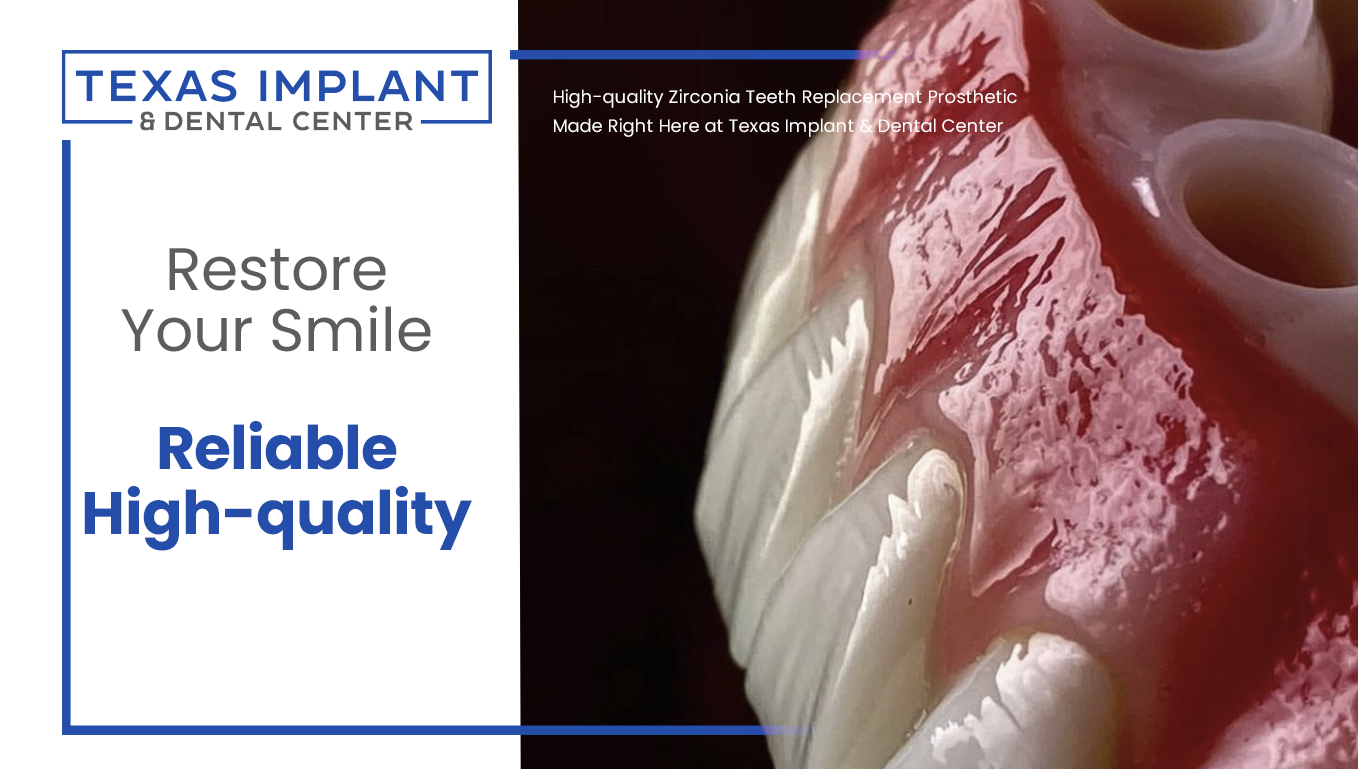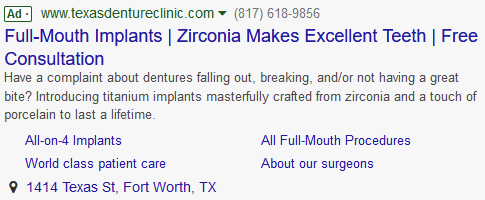 As a Marketing Company, We Know Calls-to-Action Go Here
however
results speak for themselves:
400% Increase in Conversion Rate,
Double Conversions, and
A record-breaking month, then another one, and still...